Blog Post by Mark Morabito, King and Bay Founder, published December 21, 2017


Friends and colleagues can attest that I often joke how King & Bay has been my version of the "shoemaker's son"–always the last to receive the attention it deserves.
Today, however, I am pleased to share the news that we are launching a fresh look for King & Bay with a new logo, new website and new corporate presentation. I am confident that you will agree our re-branding embodies the energy, dynamism, and creativity that defines our firm.
Since we launched in 2003, King & Bay has grown to become much more than just a traditional merchant bank. Rather, we are a business incubator whereby our team of qualified professionals draw upon their expertise to deliver high-level strategic guidance, capital raising services and even direct operational support when needed. We are "Asset Builders" turning promising business ventures in the natural resources, airline and high-tech sectors into mature, successful and profitable companies. Above all else, we are motivated to bring value to shareholders because we are shareholders; we have our own skin in the game.
Looking back on 2017, I reflect on so many great moments for the King & Bay corporate family.
In the skies, Canada Jetlines has come a long way since Transport Minister Marc Garneau showed great leadership by providing a ministerial exemption order from current foreign ownership rules in December 2016. Over the past 12 months, Canada Jetlines has brought on a new CEO, Stan Gadek who brings with him 20+ years of experience in leading airlines, assembled an equally impressive and experienced Board of Directors, established Eastern and Western Canada operational bases, partnered with two Toronto Metropolitan Area airports, and signed a leasing agreement for aircraft. All of this has combined to enable Canada to finally receive its first genuine, national Ultra Low Cost Carrier later in 2018.
In addition to the massive outpouring of goodwill by thousands of Canadians from coast to coast, one of the highlights of the year was a personal Tweet from Richard Branson offering his best wishes for bringing affordable air travel to Canada. Coming from a visionary business leader, philanthropist and fellow space enthusiast who I have always looked up to, I will never forget this warm gesture.
https://twitter.com/richardbranson/status/925830071780331520
Below the earth's surface, it was a banner year for King & Bay's mining ventures as China's booming economy has had a major positive impact on the commodities and natural resources sectors.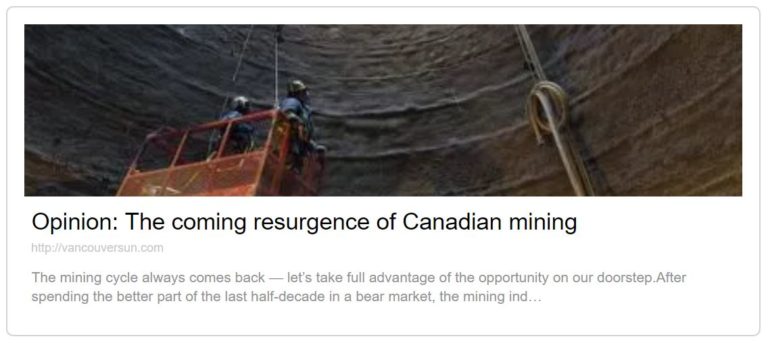 In Arizona, Excelsior Mining Corp. reached significant milestones, including receipt of both its state permit and a draft federal EPA permit, with the promising Gunnison Copper Project on track to begin production in 2018. This project has already been making waves for its potential to deliver a clean and low-cost approach to in-situ copper mining. Meanwhile in Nevada, Logan Resources' received positive drilling results from its Antelope Project and its Viper Project has also had good news over the past year.
North of the border, in Newfoundland and Labrador, Alderon Iron Ore Corp. is advancing its strategically located Kami Project to capitalize on the recovery of iron ore prices and the favourable market outlook. This year witnessed the release of an updated Economic Impact Assessment, which revealed job creation of more than 100,600 full-time equivalent position across Canada and $7.6 billion in economic activity, and agreements with infrastructure organizations that our critical for the next stage of Kami's development.
In the high-tech sector, 2017 marked an important year for Voleo Inc. on its path to becoming the Facebook of stock trading and attracting millennials to the markets. Whether it was the launch of a partnership with NASDAQ or winning Best in Show at the world-famous Finnovate conference in New York, the future is bright for Voleo and I expect this company to be one of the big stories for 2018 at King and Bay.
With an eye to the very latest in technology, this past year also saw a new member join our corporate family. In June, we announced that we were taking a leap into the promising field of Artificial Intelligence by onboarding Xineoh Technologies, which operates and develops advanced advertising technology and processes. Based in South Africa, Xineoh is not only a testament to the forward-thinking of King & Bay, but also to our international reach as we scour the globe for opportunity.
Looking back at 2017, I am so proud of the entire King & Bay team and the hard work I see from everyone within our corporate family. As we prepare for the new year by spending some much needed time with our friends and families, I cannot wait for 2018 and the next chapter in our story.